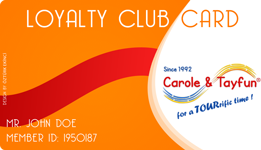 EARN MONEY!! With loyalty Club.
For every online purchase, 4% will be held in your personal customer account which can be used towards the purchase of any other excursion, tour or activity with our company. You are able to view your loyalty account online at any time with login in with your email adress and reservation number.
Simply, just go to Agent Login section at the bootom of the page. If you have booked any tours or excursions with us before, you will be given reservation number. Just use your email adress as user name and use your reservation number as password to see your savings!!!! You can use this savings to book other excursions with us.
And You can Cancel Anytime your reservations.