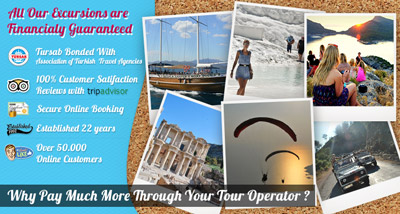 TOP 10 REASONS TO BOOK WITH US??
1.TRADING SINCE 1992
2.TURSAB LICENCED:
Our company is licensed and bonded by the Turkish Association of Turkish Travel Agents(TURSAB) as Lima Tourism Limited, that means when you book online with us, you are %100 protected for your tours and excursions. When you book online your credit card billing will show Lima Tourism Ltd.
3.SAFE AND SECURE:
Your credit card information is not held or avaliable to view on our payment system by us, thus making your booking transaction very safe and secure.
4.FLEXIBLE:
Wherever possible, we are happy to change the details of your reservation(ie, date, time etc.)
5.EARN MONEY!! With Loyalty Club:
For every online purchase, 4% will be held in your personal customer account which can be used towards the purchase of any other excursion, tour or activity with our company. You are able to view your loyalty account online at any time with login in with your email adress and reservation number.
6.BEST REVIEWS WITH TRIP ADVISOR:
We have fantastic reviews as a excursion company in Turkey.
7.DOOR TO DOOR SERVICE:
We'll collect you from your hotel and drop you back in comfort after every excursion.
8.FAMILY FRIENDLY:
Our tours designed for families with children and teenagers. Our company has developed during the years experience working with a lot of families. For this reason we are able to propose specific tours for families with kids of all ages.
9.HERE WHEN YOU NEED US:
We are reputable local British & Turkish company, Where ever you are, contacting us is easy. We have free live chat, facebook, twitter, email and telephone services avaliable for your enquiries and matters.
10.CANCEL ANYTIME!