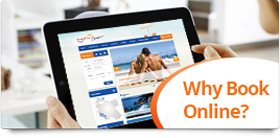 Why Book Online ?
PRICE: Our online prices are cheaper than resort prices. We don't have the same overheads and pass these savings onto you, our online booker.
CONVENIENT: Book in the comfort of your home, or hotel, anytime of day/night. Two offices are situated in the heart of Hisaronu,our head office is in Fethiye, and tickets can also be purchased on the harbour where our yachts are moored. Our telephone numbers are on this web site.
Our special promotions, (ie, BOOK 2 TOURS, GET FREE GOCEK BOAT TRIP AND FREE TURKISH BATH) are only available online - not in resort
GUARANTEED: Space is limited on most trips, especially in peak season – booking online means your trips are reserved
TIME SAVING: Don't waste precious holiday time queuing in booking office
FLEXIBLE: Wherever possible, we are happy to change the details of your reservation (ie, date, time etc)
SECURE: We recognize that security is an important issue, so we design and operate our services with the protection of your security in mind. Our Security Policy outlines why booking online with us is safe.
What are the advantages of booking on line?
All bookings made on line qualify for a 15% discount off our normal prices! This is substantially less than tour operator's prices. Why waste valuable holiday time when you can arrange all of your car hire, excursions and fabulous boat tours in advance at greatly discounted prices?
Can I make amendments to my booking?
YES. Wherever possible, we are happy to make amendments to your reservations if you need to. Just call into our office, phone or email us, quoting your booking reference and the details of any changes you wish to make.
What are the other booking options?
We have two offices in Fethiye: our head office is in Fethiye town centre and the other is in the heart of Hisaronu. Tickets can also be purchased on the harbour where our yachts are moored. Our telephone numbers are on this web site.
Can we collect our hire car from the airport?
YES. We will ask for your flight details when you make your booking.
Do I need my driving licence?
YES
Are your tours suitable for wheelchair users?
YES. We are able to take folding wheelchairs on our buses and yachts. We do ask that you are able to climb the stairs on and off the yacht with the aid of your helper. Our captain and guide can also assist.
Are the charges discounted for children?
YES. Children under 6 are free and children between 6 and 12 years are half price.
Are we insured on all cruises, tours, activities and for car hire?
YES
Do all cruises, tours and activities include transfers?
YES. Our prices INCLUDE collection and return to your hotel (within the Fethiye/Calis/Ovacik/Hisaronu/Oludeniz areas).
Are we able to book a private yacht cruise?
YES. We can arrange private boat hire for parties of around 10 to 80 people. This is a marvellous opportunity for your friends and family to cruise the islands with our experienced captain and crew. You decide start and finish times and plan your route with the captain.
Do the yachts have toilets?
YES. Our toilets are European. Our staff ensure high standards of cleanliness are maintained.
Is there a company representative on board?
YES. Our trained British representatives are present on every cruise to make sure your day is enjoyable.
Are there bars on board?
YES. We have well stocked bars with hot and cold refreshments. As you board the vessel you will be given a list of all our products, with prices clearly shown upon which your purchases are logged during the cruise - no nasty shocks at the end of the day.
Are meals served on board?
YES (except the Gocek market cruise). We are well known for the high quality of our meals on board. Your choice of meal is taken when booking your cruise. Why not enjoy a candlelit dinner, whilst moored at an island, watching the sun go down, on our highly recommended SUNSET CRUISE?
Can we swim on the cruises?
YES. We stop at the islands giving you the opportunity to enjoy a swim in the clear turquoise waters.
If we haven't covered your query here, please do not hesitate to contact us .
We are a long established company with a reputation for our courteous and professional service to our valued customers and our friendly staff look forward to hearing from you and meeting you soon.